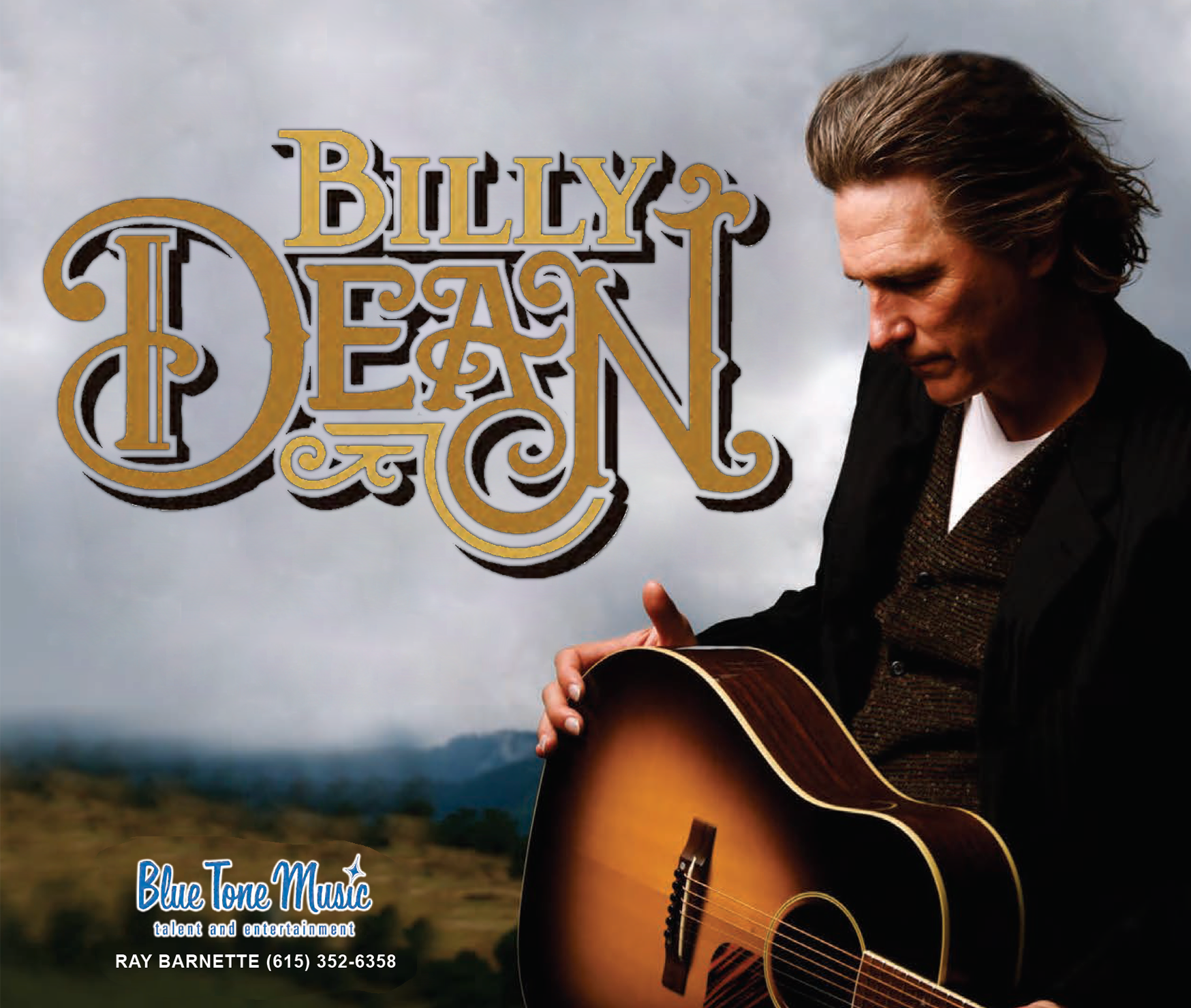 Over 5 million albums sold

5 number 1 singles

11 top 10 singles

1992 ACM Song of the Year
"Somewhere In My Broken Heart"

1992 ACM Top New Male Vocalist

1996 Grammy Winner- Vocalist
A Country Tribute To Gospel

1993 CMA Album of the Year
Producer/Vocalist- Common Thread

2017 Florida Artist Hall of Fame

2021 News- Press article by Charles Runnels
Grammy-winning Country Singer Billy Dean returns to Players Circle and is joined by his friends and other extraordinary musicians. Dean, has sold over 5 million albums and has 10 top ten hits. Popular Country Singer, songwriter, a storyteller who first came to National Attention on Star search in 1990.
Billy is joined by fellow Grammy Winner, country singer and songwriter, Paul Overstreet, who has 27 Top Ten Hits including two No. 1 Hits. He also has written #1 hits for Randy Travis, Blake Shelton, The Judd's, and Kenny Chesney.
Familiar Overstreet hit songs include:
You Love Me Best When You Say nothing.

Forever, and Ever, Amen.

On the Other Hand.

Love Can Build a Bridge.

She Thinks My Tractor is Sexy.
Billy Dean is an American Troubadour who has mastered the art of singing, songwriting, and storytelling. His unique ability to morph into the characters in his songs while performing LIVE, brings the storyline to life with musical drama. Billy's finger style acoustic guitar playing is reminiscent of James Taylor, and is percussive in nature. "I've never heard so much music coming from one man and one guitar. He's the best I've ever seen", says award winning producer/songwriter Monty Powell.No matter what venue he performs in, large or small, with his band or just solo, Billy's charismatic charm and approachable personality puts you, the listener, in an intimate living room setting, where he touches every emotional nerve, leaving you musically nourished with a renewed Spirit. Although Billy's best known in the Country Music genre for his 11 top ten singles, 5 number one's and over 5 million albums sold, his musical roots are entangled with Folk, Southern Rock, Bluegrass and Classic Country.
Billy says his musical influences are ongoing, but his sound will forever have the finger prints of those troubadour's who came before him like James Taylor, Dan Fogelberg, John Denver, The Eagles, Christopher Cross, David Gates and Bread, Willie Nelson, Merle Haggard, and Don Williams. Billy Dean has been nominated by every major music award entity. Most recently he was inducted into the Florida Hall Of Fame for artist.
Players Circle Theater, which seats typically 180, will now seat only 80 per performance with social distancing between groups of seats—complying with CDC guidelines.
VIP Tickets
46 VIP seats available per show, seated at a table closest to stage with waitress service for drinks and assorted high-end appetizers.
General Admission
28 theater seats are available in the back of the theater close to the stage. Waitress service is not included with general admission tickets, but guests can go to the lobby bar to get a drink and bring it into the theater.
Food & Drink
Delicious small, shareable plates and drinks are available in the theater 45 minutes before performances and during shows. Full dinner and bar also available at the adjacent Southwest Grill. Call 239-995-3999 for reservations.
Players Circle Theater have taken measures to ensure your safety and the safety of our artists, staff, and volunteers. Here's what we will be doing at PLAYERS CIRCLE THEATER to keep us all safe:
Temperature will be taken at the door.

Masks will be available for guests without them.

Guests must wear a mask until they get to their seats when guests go into the lobby or use restrooms.

Guests will be encouraged to wear masks during the show (but not mandatory).

Physical distancing in facility flow (for guests).

Limiting capacity in the facility and at shows.

Hand sanitizer stations throughout the facility.

Enhanced cleaning and sanitizing procedures with Siani Probiotic Environmental Spray before every show.